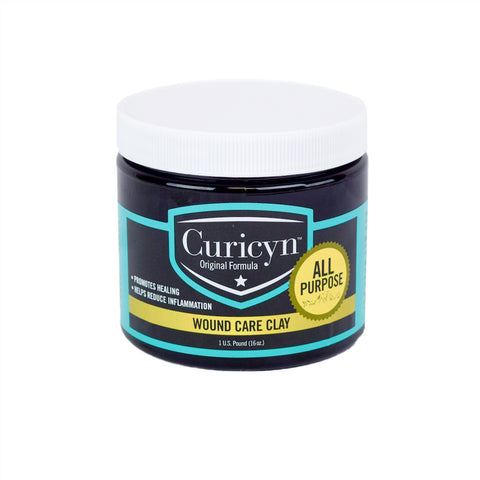 Curicyn™ Wound Care Clay
Wound Care Clay
Curicyn Wound Care Clay is packaged in a large mouth, 16 oz. container and has been prepared using a combination of bentonite clay, our Original Formula plus several other important ingredients to address open wounds or skin disorders in areas that are difficult to bandage or cover and areas in which a liquid product just does not work too well. It has proven effective on hoof abscesses, saddle sores, open lacerations and a variety of other issues.

Curicyn contains a group of powerful ingredients that work synergistically to address bacteria at its source, and promote rapid and healthy tissue regeneration and recover

It has proven effective on a wide spectrum of animal issues including open wounds, lacerations, scrapes, burns, skin disorders, rashes, thrush, white line disease, scratches, pink eye, rain rot, hot spots and many other common ailments. You will be amazed at how rapidly Curicyn can jump start the healing process in most every animal species! And it can be used in any external area of the animal including eyes, ears, nose, etc. Curicyn will not stain, burn, itch or create any sensitivity to the animal.

Precautions:
This product is for external use only, not for injection or internal ingestion. If adverse conditions or irritations develop, please discontinue use and contact your veterinarian. As always, consult with your veterinarian for unusual conditions. Keep out of reach from children. Safe to use around the ears, eyes, nose, and mouth. Safe if licked by animal.
Features:
Fast acting formula
Promotes healing
Helps reduce inflammation
Safe for equine, livestock & most pet species
Will not stain burn itch or create any sensitivity to the animal
Works on open wounds or skin disorders in areas that are difficult to bandage or cover
Helps remove bacteria from the site of application
Proven effective on hoof abscesses saddle sores open lacerations and a variety of other issues with horses as well as dogs
Size(s)
16oz:     4in x 4in x 4in
---
We Also Recommend