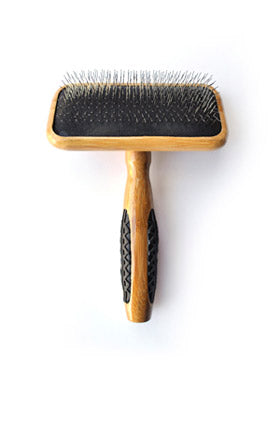 BASS Soft Slicker Style Grooming Brush
BASS has created a incredible series of luxury animal grooming brushes.

The BASS Soft Slicker Style Pet Groomer is a wire pin brush that contains flexible metal pins that are less stiff and therefore more flexible than the regular BASS Slicker Brush. The main purpose of this brush is to get rid of any debris, loose hair and mats/knots in the furr.  Its highly effective at penetrating deep into the coat and idea for brushing dogs that are in the process of blowing their coat.  This brush is used mostly for thick or curly hair dogs that require a more rigorous grooming routine.

The wood is made from 100% bamboo -- one of the most sustainable resources and environmentally sounds plants on Earth. Due to its rapid regrowth cycle and 25% higher yield than timber, it can be harvested with virtually no impact on the environment!
---
We Also Recommend